Boy Scouts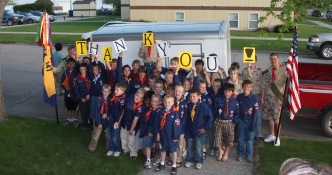 Boy Scouts is an organization for boys and girls who have reached the age of 11 and/or have completed the fifth grade.
MEETINGS
Meetings are held monthly.
ANNUAL POPCORN SALE EVENT
The Oakes Boy Scouts conduct an annual Popcorn Sale as the major fundraiser to use towards their annual camping trip.
BLUE & GOLD AWARDS BANQUET
The Blue & Gold Awards Banquet is held in March with a Cake Auction. All proceeds from the auction are used towards local program activities.
LOCAL FOOD PANTRY DRIVE
Oakes Cub Scout Pack #147 and Boy Scout Troop #147 participate in the SCOUTING FOR FOOD PROJECT each year. The local appeal is part of a national plan that seeks to ease the food problems for more than 20 million people who go hungry at some time each month. In the past six months, the Oakes Area Food Pantry has served the needs of over 100 individuals. The food collected is used to replenish the Oakes Area Food Pantry.
CAMP WILDERNESS SUMMER CAMP
The Oakes Boy Scout Troop particiaptes in the summer camp at Camp Wilderness each summer. The week long camp is located near Park Rapids, MN, and is a great place for the scouts to learn camping skills as well as earn merit badges.
CONTACT:
Oakes Scoutmaster, Dorothea Rath
701.742.3576