The Tree Board was established in 2007 to help educate the public and promote the importance of trees in our community. Trees provide multiple benefits to a community when properly planted and maintained. They help to improve the visual appeal of a neighborhood, increase property values, reduce home cooling costs, remove air pollutants and provide wildlife habitat, among many other benefits.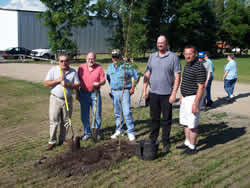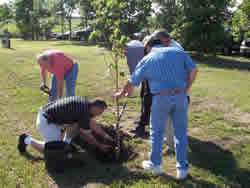 ---
Board Members
Danielle Dinger
Pat Nelson
Zasha Johnson
April Haring
2013 Tree Community Assessment (PDF)
---
Tree City
The City of Oakes has been named a Tree City USA since 2007. Oakes achieved this recognition by meeting annual requirements.
"Tree City USA communities see the impact an urban forest has in a community first hand. Additionally, recognition brings residents together and creates a sense of community pride, whether it's through volunteer engagement or public education." – Dan Lambe, President of the Arbor Day Foundation
More information is available at Arbor Day Foundation/Tree City
---
Partners in Planting
The City of Oakes has a program encouraging property-owners to plant boulevard trees. Through the efforts of home-owners, local businesses and the City of Oakes, the program will offer a grant for direct reimbursement to those who plant trees in the City's boulevard area adjacent to their property.
What Constitutes the Boulevard?
The "boulevard" is a set measurement of the city right-of-way from the center line of the street. Different streets may have different "right-of-way" measurements. Keep in mind that this right-of-way is measured irrespective of any sidewalk along the street. As a result, the boulevard or right-of-way may extend well beyond the sidewalk toward the house or building. This is especially true if the sidewalk is directly adjacent to the street. Any trees planted within this right-of-way may be eligible for a partial monetary reimbursement from the city.
Guidelines for Participation
The resident or property-owner is responsible for the purchase and planting of the trees. See the list of the tree varieties allowed for boulevard plantings.
**SPECIAL NOTE**
Before these boulevard trees are planted, contact the City to verify that it is an acceptable tree species and location is correct and has the proper spacing.
If you have questions, contact City Hall at 701-742-2137.
Once the tree (or trees) has been planted, and the forester has inspected the site, the resident or property-owner may be reimbursed for the partial cost of each tree. Reimbursement to the purchaser will be half the price of the tree, up to $50. The limit is $300 per property. Submit a copy of your original sales receipt for the tree purchase (the receipt needs to show the species of trees purchased, the cost for each tree, and the name of the company from which they were purchased). Copies of original sales receipts must be received within 30 days of the date of purchase. The reimbursement comes in the form of a check from City Hall.