---
Welcome to the Oakes Area Chamber of Commerce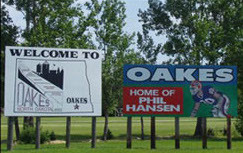 Over 200 businesses make up a thriving mix of retail, agriculture, professional and service related businesses in the area.
We are proud of the merchants who comprise our chamber membership, the City of Oakes and the trade community, which we serve. Our hope is that you will visit our community and experience for yourself the friendliness and vitality that is Oakes, North Dakota.
The Oakes Chamber offers a variety of events throughout the year to enhance our quality of life.
MISSION STATEMENT
The mission of the Oakes Area Chamber of Commerce is to actively advance the commercial, industrial, professional, agricultural, educational and civic interests of the Oakes area, stimulate and support business creation and expansion, and enrich the quality of life in Oakes, North Dakota.
INFORMATION
Interested in the Oakes Chamber of Commerce community events and programs? Give the Executive Director at our local Chamber office a call at 701.742.3508 or contact an Oakes Chamber Board member. We appreciate your interest in Oakes, North Dakota and look forward to hearing from you.
Key Events
Please see the chamber programs page for a listing of chamber events.
Useful Links
Contact:
501 Main Avenue
Oakes, ND 58474
Telephone: 701.742.3508
Email: oakesnd@drtel.net
Office Hours: Monday - Friday 8am-1pm or by appointment
Chamber Board Members:
Rebecca Undem (President), Rebecca Undem LLC
Trista Gemar (Vice President), BankNorth
Katie Dahlstrom, Dahlstrom Funeral Home
Abbey Fick, Columbia Grain
Matt Miller, Miller's Fresh Foods
Mary Lou Sundby, DRN
Dan Spellerberg, SRCTC-Oakes
Janelle Wibstad, Oakes Public Schools
Executive Director – Emily Ptacek