Cub Scouts

Cub Scouts is an organization for boys and girls between the first and fifth grade. Cub Scouts is a year-round program that offers fun activities that promote character and leadership development. Our program is designed to be hands-on, and parents are encouraged to play an active role in our programs.
The 10 purposes of Cub Scouting are: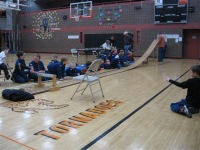 Character Development

Spiritual Growth

Good Citizenship

Sportsmanship and Fitness

Family Understanding

Respectful Relationships

Personal Achievement

Friendly Service

Fun and Adventure

Preparation for Boy Scouts
Levels of Achievement:
Tiger - 1st grade

Wolf - 2nd grade

Bear - 3rd grade

Webloes I - 4th grade

Webloes II - 5th grade
Meetings:
Den - Meetings are held monthly dependent on the leader August through May.
Pack - Meeting are held with the entire group once a month.
Key Events:
Scouting for Food - Fall or Spring
Popcorn Sale - October
Blue and Gold Banquet - March
Pinewood Derby - January
Contacts:
Cubmaster: Merrick Malmberg
Secretary: Dorthea Rath, 701.742.3576
Treasurer: Toni Ptacek, 701.742.2179
Links: