Pictured: Craig and Mary Galbreath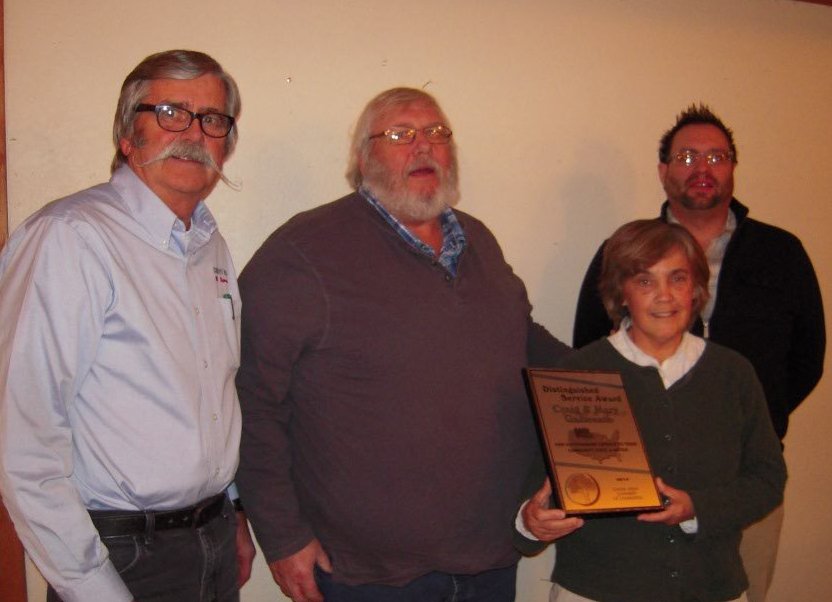 The Distinguished Service Award began in 1988 as a way to recognize an individual or group giving service above and beyond to enhance the quality of life in Oakes, in North Dakota and in America. In looking at past recipients countless hours of service have been given to the community, state, and nation.
Craig and Mary Galbreath moved to Oakes and started Oakes Veterinary Service in 1977. At first they worked out of the old salebarn facility located along highway one where NAPA now stands. In 1980 they purchased land behind JT Homans auto dealership and built the veterinary clinic. Over the years the clinic expanded and now includes the main clinic building and home as well as a number of storage and utility buildings and the equine center. Craig and Mary raised 4 sons, 3 of which have also become veterinarians and two that still practice in Oakes. Over the years Craig and Mary have been involved in the community as 4-H leaders, church members, organization volunteers and the list goes on. Mary has spearheaded the annual Pet Show, Pets in the Park for over 30 years and it has grown into a community wide event. The Galbreath's have also provided a living nativity scene at the veterinary clinic for local families to witness "A Place Like Where Jesus was Born", complete with donkeys, goats and long horn cattle. In addition to these unique events, they have been strong participants and supporters of Irrigation Days activites and events and have created some memorable parade floats over the years. Craig volunteered as an assistant football coach for a number of years and the Galbreaths started the homecoming week kick-off feed for the athletic teams. The Galbreaths have been proud supporters of 4-H and FFA and started a memorial fund in honor of their long time neighbor and friend, Leon Weight, to help students travel to local and national contests. Both Craig and Mary served as board members to the North Dakota State Fair Foundation and Craig served on the state Scrapie Eradication board for North Dakota which was instrumental in providing guidelines for eradiation of a deadly disease affecting sheep in the state. This past summer Craig and Mary Celebrated their 40th wedding anniversary and as a testament to their importance to the community and the relationships they have made, over 200 people joined in the celebration. Craig and Mary recently transitioned their business over to their son and daughter-in-law, Collin and Fonda, and are looking forward to more free time to spend with grandchildren, friends and to get some good fishing in as well.