Ducks Unlimited (James River Chapter)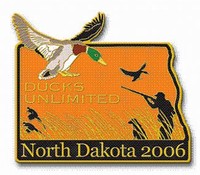 Wetland, waterfowl and wildlife conservation organization provides news, fundraising, membership information and conservation reports.
Main Event:
Ducks Unlimited Annual Banquet
The Ducks Unlimited Banquet is held the latter part of October or the first part of November each fall and is open to all visitors and residents from the region.

6 pm - Social

7 pm - Dinner

8 pm - Auction

Fees

"Membership contribution is tax deductible except for the $3 value for each Ducks Unlimited Magazine subscription and $3 value of other membership fulfillment items to amount allowed by law."

Contacts
Phone: 701.742.2628 or 701.742.3524
Fax: 701.742.2607
Email:hunterjon54@hotmail.com