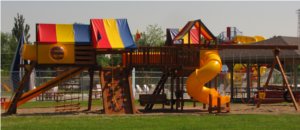 J. Paul Klinger Eagle Scout Park - located at the corner of 10th St. South and Juniper
The Oakes Park Board is an elected group of volunteers responsible for the management and maintainence of the following:
Ice Skating Rink
Hockenberry Park
North 7th Street and Fir Avenue
Westside Park
20 Kola Avenue
Paul J. Klinger Eagle Scout Park
110 South 10th Street
Picnic Shelter, Reservations may be made by contacting City Hall at 701.742.2137.

Sand Volleyball Court

Located next to Swimming Pool

Playground Equipment
Veteran's Memorial Park
South 12th Street and Main Avenue
Summer Recreation Programs
Swimming Pool
Hours and Fees:

Day Swim: $5 per person, 1-5 PM

Night Swim: $3 person. 7-9 PM

Family Swim: 6-7 PM (Sunday through Thursday)

Please call for current fee schedule, 701.742.2481

Swimming Lessons (group and private)

Aeobics

Pool Parties

More information
Board Members
Jill Cox
Leslie Dethlefsen
Bob Miller
Jason Paradis
MiKayla McClean
E-mail: parks@oakesnd.com
Phone: 701.742.2137
..to provide diverse year-round leisure and recreational activities to improve the quality of life fo all residents and visitors in our community.