Chamber Programs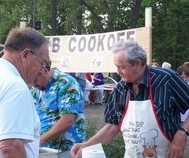 The Oakes Area Chamber of Commerce hosts a number of annual activities throughout the year to showcase our community pride
In addition, as special events arise in the community and the surrounding area, the Chamber members participate in those special events to meet the needs of the community. The "We Care Campaign" commitment to raise $100,000 through the Chamber was a prime example of a special activity in 2005.
Key Events
Halloween on Main
Craft and Merchant Fair
Irrigation Days
Evening in the Park
Chamber Honors Social
Merry Month of Memorie
Referrals
The Chamber office serves as our very own "Convention and Visitors Bureau" to new and old residents and visitors traveling to the area.
Oakes Bucks
Oakes Bucks are the equivalent of a gift certificate, except...you can redeem it at any of the Oakes Chamber member locations. The Oakes Bucks certificates can be obtained through the local Chamber office and are ideal as a gift for many special occasions:
Employee Appreciation
Birthday, wedding, anniversary
Graduation, confirmation, Mother's Day, Father's Day, Grandparents Day
To learn more about the various programs, contact a local Chamber Board member and/or contact us at our local Chamber office! We would be happy to assist you with any questions about Oakes and the Chamber of Commerce!
Thank you for visiting us at wwww.oakesnd.com!
Contact Information
Oakes Area Chamber of Commerce
701.742.3508
Email: oakesnd@drtel.net