Oakes Area Community Foundation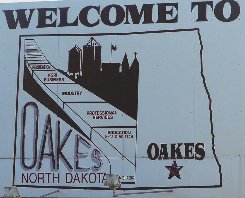 Established in 1998 by a grant from Mr. Frank Larson, the Oakes Area Community Foundation provides a method of receiving funds ⁄ donations to benefit projects or non-profits in the Oakes area. The fund is affiliated with the North Dakota Community Foundation, which is a non-profit tax-exempt corporation under IRS code 501(c)(3) and North Dakota Law.
Management & Purpose
All contributions and bequests received by the Oakes Area Community Foundation are placed into a permanent endowment fund. Earnings from the fund are used to support projects or programs in the county as determined by an Advisory Committee of local citizen volunteers. The North Dakota Community Foundation provides professional management for the fund. Gifts to the fund are tax deductible to the full extent of Federal and State Law.
Types of Gifts the Endowment Accepts
Outright Gifts
Money, securities, or appreciated property may be transferred to the fund. The donor receives a tax deduction based on the value at the time of transfer. The donor will not be subject to capital gains tax on any appreciation.
Life Insurance
By naming the fund as irrevocable beneficiary of a life insurance polity, donors receive an immediate tax deduction. Premiums paid thereafter are deductible from income tax.
Bequests
Donors may provide gifts through a will for a stated sum, percentage, or residue and remainder of the estate, real or personal.
Memorials
Gifts honoring individuals are an appropriate way of indicating one´s care and concern.
Deferred Gifts
Deferred gifts may provide a lifetime income to donor or designee. Upon death, the residue of the gift becomes property of the fund.
Annual Fundraising by Our Advisors
Get your tickets today for the Annual Fall Event. Bring your mom, your friends, your employees, your spouse and yourself – enjoy a night of visiting, charity, goodies, goodwill and some drinks. The 2016 event is "SOUP, SUDS & SHOTS"
The event is scheduled for Friday, November 18th at 7pm. It will be hosted by the Oakes Golf Course. Tickets are $25 each and all proceeds go to OACF to pursue its mission. All advisory members have tickets to sell.
We hope to see you there!
Annual Charity Golf Tournament
A Tuesday in July.
Chartiy Golf Tournament Results.pdf
Downloadable Forms & Information
Grant Overview and Guidelines.pdf
Previous Grant Recipients
Boy Scouts Troop #147
Dickey County Historical Society
Raise the Curtain
Oakes Golden Age Club
Dickey County 4-H Shooting Sports Club
Oakes Fire Department
Oakes Park Board
City of Fullerton
Oakes Alano Society
Oakes Volunteer Ambulance Service
Hospice of the Red River Valley
Girl Scouts
Oakes Public School
Sargent County Fair
Tiny Tornadoes
Board Members
John Zetocha, Ron Goodman, Tom Gulsvig, Bill Schmitz, Rebecca Undem, and Toni Ptacek
Contact Information
Oakes Area Community Foundation
Attn: John Zetocha
PO BOX 571
Oakes, ND 58474
701.742.2112
www.ndcf.net/oakes
North Dakota Community Foundation
PO Box 387
Bismarck, ND 58502
701.222.8249
www.ndcf.net
Facebook
www.facebook.com/NDCommunityFoundation
---