Fishing around the Oakes Area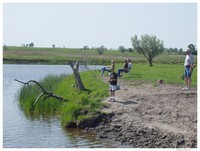 OAKES IRRIGATION CANAL (Dickey County)
Bigmouth Buffalo, common carp, white sucker
JAMES RIVER (Dickey County)
Pike, walleye and others
Fish found entire length of river below dams at LaMoure, Jametown, New Rockford and west of Ludden.
Location: Ludden is located 11 miles from Oakes.
HYATT SLOUGH WMA (Dickey County)
Waterfowl, pheaseants, deer Boat Access
1,354 acres WMA
Directions from Oakes: 11 miles south on Hwy. 1 to Ludden, travel one mile west and 4 miles south
KRAFT SLOUGH (Sargent County)
Perch
No Ramp
Directions from Oakes: 1 mile south, 9 miles east, 1 mile north and 1/2 mile west
PHEASANT LAKE (Dickey County)
Pike, perch, largemouth bass, bluegill, walleye, crappie and bullheads.
Location: 6 miles west of Ellendale and 34 miles from Oakes
WILSON DAM (Dickey County)
Pike, perch, largemouth bass, catfish
Amenities: Fishing pier, campground, limited playground equipment
Location: 7 miles west of Monango on US Hwy. 281
Owned by Dickey County and maintained by Dickey County Commissioner's appointed Park Board.
LAMOURE LAKE (LaMoure County)
Pike, Walleye, Crappie
Boat ramps, docks, RV Camping
Directions from Oakes: Travel north on Hwy. 1 for 10 miles, turn west at curve and travel west for 6 miles, turn north by old country church and travel 4 miles to LaMoure Lake.
BUFFALO LAKE (Sargent County)
Pike, perch
Location: 6 miles north and 1 mile east of Rutland
LAKE TEWAUKON/TEWAUKON NATIONAL WILDLIFE REFUGE & WETLAND MANAGEMENT DISTRICT (Sargent County)
Pike, perch, walleye, crappie, bullheads
Amenities: Fishing pier, aeration system
http://www.fws.gov/tewaukon
Location: On National Wildlife Refuge, 5 miles south of Cayuga
SILVER LAKE(Sargent County)
Pike, perch, walleye, crappie, bullheads
Amenities: Campground
Location: 3 miles west and 2 miles south of Rutland
Related Links
North Dakota Game and Fish Fishing Regulations and Licensing