Learn, Explore, Experience History
The Dickey County Historical Society in Oakes, ND is a member/donor organization that manages the Dickey County Heritage Center, the former 1908 First National Bank building, the Dickey County Historical Park and the Stage Coach Historic Sign in Oakes, ND. The Dickey County Heritage Center is a 3-story building filled with historical exhibits and the Dickey County Historical Park on the west side of town includes an early 1900's Soo Line caboose, Bear Creek Climax schoolhouse, a 1891 Methodist church, a 1909 Security Bridge Company bridge and a Soo Line train depot. The Dickey County Historical Society was granted an official charter in February 1975 by the North Dakota Secretary of State.

Mission
The organization's mission is to identify, preserve, research, collect and promote the history of Dickey County and the surround areas. The DCHS operates through annual membership dues, donations and memorials to the Dickey County Historical Society.
Hours of Operation:
Wednesday's (Open Year Round) – 9 am to 4 pm
Artifacts of the Dickey County Heritage Center
The Dickey County Heritage Center (DCHS) was dedicated in June 1994 and includes a vast array of early pioneer artifacts, history of Oakes and Dickey County, Oakes Public School memorabilia, history and stories about Oakes business and people as well as other historical items of interest. The DCHS includes 3 floors of artifacts and replications of an 1880's dental office, doctor's office, military history room, 1900's prairie kitchen, antique farm tool display, vintage wringer washing machine collection, 1950's Western Bell Telephone station and a complete collection of the local Oakes Times newspaper dating back to 1906 to the present day.
The Dickey County Heritage Center offers a vast array of history and includes a few select samples:
Oakes native Stuart Munsch - Current Rear Admiral US Navy, Assistant Deputy Chief of Naval Operations, Operations, Plans and Strategy (N3/N5B)
1962 Life Magazine feature article about the play "Our Town" by Thornton Wilder performed in Oakes
Article about the infamous Calamity Jane (Martha Canary) passing through Oakes in 1902
First Ladies of the White House Inaugural Ball Dress collection from First Lady Martha Washington to Lady Bird Johnson designed and presented by Miss Julia Dahlbeck of Oakes, ND
Photograph and print of the 1950 Life magazine 2-page photo feature of J.W. Enger's "Electrified Landscape"
Photo exhibition of the 2005 ESPN "50 States in 50 Days Tour" that was aired live from Oakes, ND for the Midwest Cal Ripken tournament chosen as the sporting event to represent North Dakota
Oakes native - NFL Buffalo Bill's Phil Hansen, former American football defensive end in the National Football League for the Buffalo Bills from 1991 to 2001 and played 156 games with 149 starts
Articles about former community member William Ptacek's reproduction of the Bergmann Exhibition 1877 Tinfoil Phonograph
Articles of Gerald S. Beck, world class Warbird aircraft restorer, who grew up on a farm in Guelph, ND, 8 miles southwest of Oakes, ND.
---
Dickey County Historical Park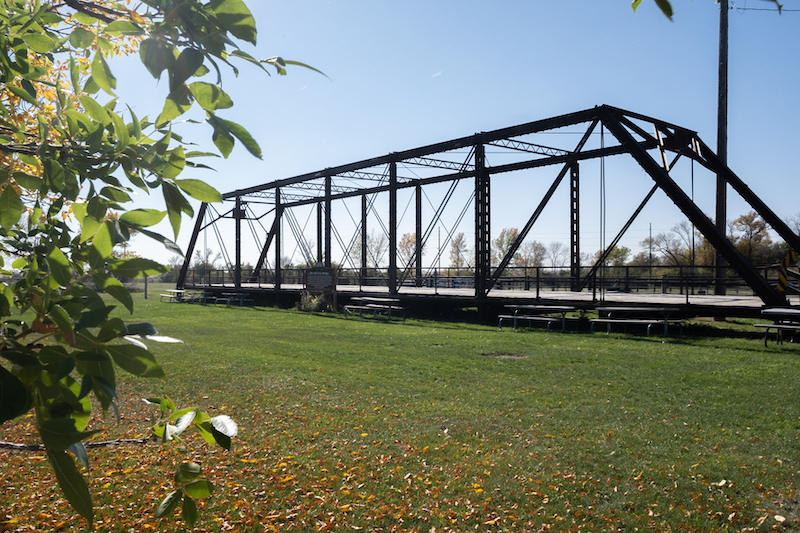 1891 Church - Originally built by the Oakes Methodists and used by the Swedish Lutherans (Grace Lutheran Church), Assembly of God and Church of the Nazarene all of Oakes
1900's Soo Line Caboose
Bearcreek Township Climax School - One-room schoolhouse known to many of the era as the N.J. Nelson School
1909 Security Bridge Company Bridge – moved from 4 miles north and 2 miles east of Oakes by contractor Dakota Bridge Builders Co. of Fargo
Restrooms and Shelters – Available for events onsite
Tours:
Individual, School, Reunion and Group Tours are always available. Please contact us and we are happy to set up something for you.
Genealogy Research:
Dickey County birth and death certificates can be researched via http://theusgenweb.org/nd/dickey
Membership:
$10 annual membership or $100 Lifetime membership – Memberships available to anyone who would like to support the preservation of artifacts and history of the Dickey County Historical Society in Oakes, ND. Checks can be made to the Dickey County Historical Society
Donations, Memorials, & Planned Giving
The Dickey County Historical Society appreciates any donations regards to historic heirlooms, monetary or memorial donations or estate planned giving considerations to preserve the long term heritage of the Dickey County Historical Society. Donations are placed in a managed investment fund to preserve the long term heritage of our area and the museum. Please contact Mary Ann Kunrath, President, for any questions about donation. Thank you.
Contact
Museum – (701) 742-3034 (Open on Wednesday's)
Mary Ann Kunrath, President – (701) 710-0861
Lane Bredeson, Treasurer – (701) 710-1481
Email: dchistoricalsociety@drtel.net
Museum Address
424 Main Avenue | Oakes, ND 58474
Mailing Address
9225 104th Ave. SE | Oakes, ND 58474
---
City of Oakes Origin Summary
Platted in 1886 and incorporated in 1888, Oakes had its beginnings as an important stagecoach and railroad station. Taking its name from Thomas F. Oakes, President of the Northern Pacific Railroad from 1888 - 1893, rail transportation remains a key factor to the economy of Oakes. Oakes has sustained strong railroad ties due to the continued development of agricultural services through the addition of two new 100-car loading grain elevators in 2003-2004. The railroads include:
Rail - Red River Valley & Western (BNSF)
Dakota Missouri Valley & Western (CP). The railroad remains today.
---
Excerpts from Oakes Centennial Book 1886-1996
by Paul Klinger and Jon Klein
Oakes began its existence as a town on September 1, 1886. the engineers platting the lots on Wednesday, September 15, 1886. Part of the stagecoach line between Jamestown and Columbia, begun in 1880 by a mr. Benjamine, ran through the center of Oakes on what is now Highway 1. It was the first stagecoach to cross what is now Dickey County. A relay station was located at the crossing with Bear Creek, high on a hill with a railroad lantern on a pole, making it easy to locate night or in bad weather. Occasionally, this had to be an overnight stop, as well as the stop for fresh horses. The house was framed and stood there until in burned down in the 1970's. The bar was a dugout built into the bank of the hill, with room for 16 horses. William Mills worked at this relay station as cook and hotelier. Mr. Mellinger, who later opened a livery stable in Oakes, was the stagecoach driver.
When the town of Oakes was being planned, it was said that John Jones, Oakes' second settler, received $1,000.00 for his homestead and $9,000.00 for his tree claim - after Mr. Mills had been reimbursed for an undisclosed sum for his holdings. The town was platted originally for 17 blocks and the streets were made 80 feet wide.
By September 29, 1886, Oakes became a station on the Northwestern Railroad.
October 1, 1886, saw the auctioning of town lots and lots sold for less than $150.00, while some ran as high as $350.00. That afternoon, 70 lots were sold for a total of $13,000.00 in one day. By October 8, there were 14 unfurnished buildings that had been started.
The first preacher in Oakes was Rev. C.A. Rice, and the first teacher was Miss Brainerd. Benjamine and Mellinger were running a daily stagecoach between Oakes and LaMoure. Harrison Mallory was elected to the Territorial House of Representatives from this district in November of 1886.
1886: T.F. Marshall and others started the Bank of Oakes at 2nd and Union (now 5th and Main). Mr. T.F. Marshall did much to promote the community. In 1901, he traveled East to interest investors in a $500,000.00 sugar beet plant for the community. Area farmers test planted sugar beets with good results and it appeared Oakes would become a major sugar beet producer. Unfortunately, the eastern money pulled out in favor of an area already growing beets. Their reason - they did not feel that the prices at which they were willing to buy beets would entice growers to plant the new crop. When the deal fell through, the Jamestown "Alert" ran an article making fun of the Oakes people for losing "$2,000.00" of their own money while attempting to secure the beet plant.
Republican editor Ed Smith made this appropriate replay: "The citizens of Oakes are noted for their liberality. They have always spent their money freely whether it was to get a railroad, promote a county fair, coursing meet, horse races or a sugar beet factory. And, as a result Oakes is the best advertised city of its size in the state. The balance of the state may poke a little fun at Oakes for spending a little money on a sugar beet deal, but it would be better grace to give us credit for trying to develop the state at our own expense."
The first postmaster was Mr. Hineman.
The first hotel in Oakes was built by George Ladd; but by far the finest one was the Vinkle House, built in April 1887, at a cost of $10,000. It was three stories high, with room for business on the ground floor. A third hotel, called the Argyle, was one block east.
By May 1887, Oakes had three elevators. And the town's first real celebration of July 4, saw horse racing through the streets. A horse bolted into the crowd, striking a visitor, L.D. St. Mars. Although three doctors game him up, he recovered.
August 5, 1887: The new dwelling of Mr. Quegle was totally destroyed by fire. The building, partially covered by insurance was worth $300.00. The Oakes City Council called for bids for a board sidewalk, so people could have a good walkway and not have to jump over mud holes. Then more hitching posts were needed for those beautiful Oakes horses. And nearly every store in Oakes was using kerosene lamps instead of candles.
November 11, 1887: Dickey County voted for Prohibition, the town of Oakes was the only precinct giving a majority to license liquor.