American Legion Post #36
The American Legion is a national association of male and female war veterans founded in 1919 in Paris, France.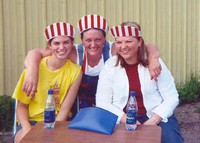 Membership is open to veterans of World Wars I and II, the Korean War, and the Vietnam War. The preamble to the organization's constitution, adopted at the convention in St. Louis that same year, expresses its purposes in part as to uphold and defend the Constitution of the United States; to maintain law and order; to foster and perpetuate a one hundred percent Americanism; to safeguard and transmit to posterity the principles of justice, freedom, and democracy; to consecrate and sanctify our comradeship by our devotion to mutual helpfulness.

1st Vice Commander
Fred Moore
2nd Vice Commander
Richard Lauderdale
Finance
Steve Frojen
Chaplain
Caleb Aberle
Historian
Gary Seyer
701.742.2089
Club Board of Directors
Steve Frojen
Jerry Schumacker
Tim Kelly
Fred Moore