Oakes Community Hospital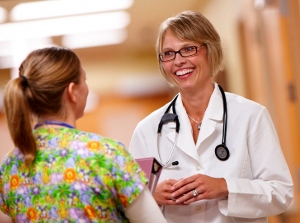 The Oakes Community Hospital is a 24-Hour Emergency Level V Center. It is a 20-bed critical access hospital providing various inpatient and outpatient services to approximately 14,000 people in Southeastern North Dakota. The hospital is part of a larger values-based organization, Catholic Health Initiatives.
The Oakes Community Hospital ranks highly in the entire CHI system in the categories "likely to recommend" and "overall satisfaction".
The medical staff consists of physicians with certifications in family practice, internal medicine, sports medicine, critical care and geriatrics. There are also several physician assistants and certified nurse practitioners and a number of physician specialists on our courtesy staff visiting the hospital regularly.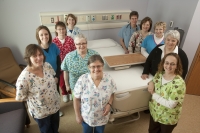 Family Medicine
General Surgery
Internal Medicine
Sports Medicine
Geriatric Medicine
Radiology
Urology
Pathology
Cardiology
Ophthalmology
Orthopedic
The Oakes Community Hospital has a dynamic nursing team with excellent skills. All RN´s receive ACLS certification, Trauma Nurse Core Course, Newborn Resuscitation Training, and cross training to all areas of the hospital. The physicians are multi-specialists in internal medicine, obstetrics, and cardiology, and require highly trained nursing staff for patient care. Oakes Community Hospital offers great things in a fast paced environment.
Services currently being offered include: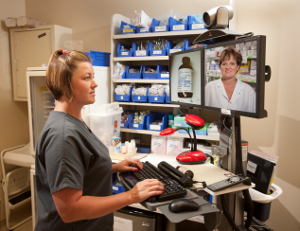 Level V Trauma Center
24-Hour Emergency Care
Chemotherapy ⁄ Infusion Therapy
Medical ⁄ Surgical
Surgical

General
Laparoscopic
Orthopedic
Urology
Cataracts
Colonoscopy
Endoscopy

Swing Bed
Home Health
Radiology

PACS
CT Scan
Fluoroscopy
Electrocardiogram
Electroencephalogram
Nuclear Medicine
Digital Mammography and Ultrasound
General Radiography

Respiratory Therapy
Physical Therapy
Occupational Therapy
Speech Therapy
Clinical Lab (Chemistry, Hematology, Blood Banking, Microbiology)
Oakes Ambulance Paramedic Service
Burns Care through Telemedicine
LOCATION
1200 North 7th Street
Oakes, ND 58474
Telephone: (701)742-3291
Fax: (701) 742-3639
More Information
Corporate web site of parent company Catholic Health Initiatives