Oakes Soccer League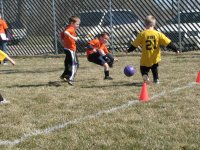 Oakes Soccer League exists to promote soccer in the Oakes area and is run by a board of volunteer directors, generally parents of kids that are involved in the soccer programs.
When can families become involved?
Youth soccer is offered for kids from age four through grade six. All youth teams are co-ed; boys and girls play together on the same teams. Kids are grouped as follows: 4-year-olds through kindergarten; Grades 1-2; Grades 3-4; and Grades 5-6. Consideration is being given to putting the pre-kindergarten players in their own group, separate from the kindergarten students.
Where do we play?
Games and practices are held at the Oakes Track and Soccer Complex at the southeast corner of Oakes, behind the Southeast Region Career and Technology Center. The property is owned by the Oakes Public Schools. We share time and space with track athletes in the spring of the year.
The neighboring communities of Lisbon, Forman, Ellendale, LaMoure, and Valley City also have soccer programs. We host those communities in games and events. Our teams travel to Forman, Lisbon, and Valley City. Ellendale and LaMoure have not usually hosted games, as they have not developed facilities.
Preschoolers through second graders practice and play on the track infield. Third and fourth graders play on the two medium-sized fields south of the track. Fifth and sixth graders play on the largest field, west of the 3rd-4th grade fields.
When is the season?
Our youth season runs approximately seven to eight weeks in the spring of the year, generally beginning after Easter and ending the last week of the school year. In the past, we have also had a fall season. However, of our neighboring clubs, only Valley City has a fall soccer season, and they do not travel with players younger than third grade. Many of our fifth and sixth grade soccer players choose to play volleyball and football in the fall. If there is enough interest and commitment by players, coaches, and parents, a fall season could be offered again in the future.

How often do we practice and play games?
Our teams have typically practiced on Tuesday evenings. Coaches may choose to offer another weekday evening practice, or lengthen the practice, particularly for the older age groups. We may also try to have make-up practices if we have had to cancel practices due to weather or field conditions.
As we get later in the season, we start playing games on Saturdays. Teams may be scheduled to play one or two games at any game event.

What about the weather?
Soccer is considered an all-weather sport, so we play in cold, rain, snow, and wind, as well as on beautiful, pleasant sunny days, as long as field conditions allow. However, because the whole idea is for the kids to have fun, consideration is given to cancelling or shortening games or practices when conditions are particularly unpleasant.
Parents should use common sense when dealing with the weather on soccer days. Dress kids warmly in layers and long pants if it is cold. Kids are allowed to wear gloves and stocking caps if necessary. If possible, warm clothing should be worn UNDER the uniform or t-shirt when needed on game days.
Parents should be mindful of the weather during practices and games. Practices will be called off immediately if lightening is present. There is no immediately available shelter from lightening or tornadoes at our soccer field. If thunderstorms are threatening, parents should NOT drop kids off and leave the field, unless they have made arrangements with another parent or coach to take their kids to a safe place. Coaches feel responsible to stay at the field until all their players have been picked up. Parents should be prepared to stay at the field if it seems likely that practice will end early due to the weather.
Every effort is made to announce cancellations of practices or games in school or on KDDR radio. However, it is not always possible to make a decision in time to announce in school, or even on the radio. Sometimes, you just have to drive to the field and find out what is going on.
What can my family do to help the soccer program?
Our soccer program is run completely by volunteers. Each participating family is expected to help in some way. Parents may volunteer to serve on the board of directors as an executive officer, scheduler, field maintenance or equipment coordinator, coach or referee coordinator, fundraising ⁄ concessions coordinator, registration coordinator, etc.
Parents or older siblings might offer to be a practice helper. A field and equipment preparation day may be held to be sure that our fields and supplies are in good repair, organized, and ready to go. Families may be asked to provide food or a cash donation for our concession stand, or to work a shift on the days we host events. Help is needed painting lines on the fields, setting up goals and flags, cleaning up the grounds before and after events or practices.
Volunteers are also needed to serve as coaches and referees. Training and materials are provided for coaches and referees. The Oakes Soccer League pays a small stipend to our youth and adults that are certified referees for each game that they officiate. Coaches do not get paid. Children of coaches, referees, board members, and other volunteers pay the same fees as everyone else for their child's participation.
How much does it cost to participate in soccer?
Oakes Soccer League collects fees of $25 per player for participation in the spring soccer season. In addition, players up to grade four must purchase an OSL t-shirt for $5 which must be worn during games. Players may use their t-shirts for as many seasons they can; they do not have to buy a new t-shirt each year. Consider purchasing a larger-size shirt to allow for wearing another year and for wearing warm clothing underneath when needed.
Fifth and sixth grade players wear uniforms which are owned by the OSL. These must be returned in good condition at the end of the season. These players are asked to buy matching orange socks for $5 which are theirs to keep after the season.
Besides a t-shirt, what equipment do we need to buy?
Players must wear shinguards, covered by socks or long pants, at both practices and games.
Players should have their own soccer ball and bring it to practices and games (Size 3 for preschool through grade two; Size 4 for grades three through six). If you already have a soccer ball and it is not the suggested size, you should just use the size you have; it is not necessary to replace it. OSL has some soccer balls of each size in case extra are needed for practice activities. It is a good idea to put your name on your soccer ball.
It is NOT necessary to buy special soccer shoes; however, cleated shoes will provide better traction and safety in wet field conditions. Players may wear any good fitting athletic shoes that do not have toe cleats; baseball or football shoes are not acceptable.
What if my child gets hurt playing soccer?
Part of your fee is submitted to the ND Youth Soccer Association, which provides some medical insurance for soccer-related injuries. This insurance is secondary to any other health insurance you might have. Claims must be reported as soon as possible, but no later than 30 days after the incident.
Oakes Soccer League Board of Directors and Coaches – 2009
President - Sonia Meehl
Secretary - Beth Langhoff
Treasurer - Brenda Tyre
Coaching Coordinator - Roberta Forward
Field & Eqpt - Shannon Day
Concessions - Rhonda Day, Jeff and Jennifer Wiek, Cherie Muggli
Referee Coordinator - Randy Entzminger
Scheduler - Sara Zantow
Registration Coordinator - Dorothea Rath