Oakes Teammakers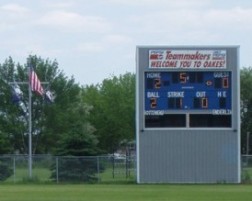 The Oakes Teammakers are a volunteer group of individuals who support the athletic events of the Oakes Public Schools. Their primary purpose is to raise money to support local athetic programs such as uniforms, equipment and other needs as they arise.
Officers
President - Renee Seyer
Vice President - Leslie Dethlefsen
Treasurer - Nancy Domine
Secretary - Janel Mayer
At Large - Denise Wagner, Charissa Stadlman, Karla Hoelscher, ReNae Roney, Missy Roehrich
Membership
Any individual may volunteer time or financial resources towards the fundraising programs that assist the Oakes Public Schools athletic programs.
Contact
Denise Wagnger
Email: denisew1976@live.com